Id68 M - Nebraska USA Mormon History
Information on Mormons: Id68 M
Sponsor Ads
Sponsored Links:

The History of the Saints in the State of Nebraska USA
No one has yet submitted history, be the first to
Submit
Go to: United States > States
Latest Post
21 March 1975

Elder (Jack) Jorgensen is a trickster. He started to feel ill in Caracas yesterday, and didn't tell anybody. But after breakfast, it was very apparent that he was hiding something. We got 2 blocks from the hotel when he decided he just couldn't do it. He drank only one glass of orange juice for breakfast, and it didn't stay down very long.

So we headed home. Elder Jorgensen went straight to bed, and I went about organizing the references. I looked them all up on the maps and marked as many as I thought I could.

Elder Jorgensen continued ill throughout the day. I studied I Samuel and rested. We both skipped lunch and dinner.

That evening, we got to bed early--and both got quite a lot of sleep.

22 March 1975

We got off quite early this morning. We had a lot to do, and that was what we set out to do--a LOT. We looked for Chan Wan, a member, and found out that he had moved about 5-6 years ago from the address we had. We tried everything we could think of, but never found him. We then spent the rest of the day trying to find references. Most were people of black descent, as is the majority of the country. We did move from the Pelican Inn to a guest house more to the center of town, and were on a more friendly basis with the staff. The lady of the house is very congenial and friendly. We were served lunch--a huge one, too--and paid a smaller price than at the Pelican Inn. Our expenses are not low yet, but are to the level where we must watch what we spend.

We found Mrs. Evelyn Harris at home and gave her a First Discussion. She's divorced, with no children at home. The reception was fair, but she demanded that we should not "Push" her, but rather let her take the initiative to do things. She would not commit herself to read the Book of Mormon, nor to do anything else. But we did bear strong testimony.

We found some other references at home, but nothing we felt that we could teach to. The results so far are not very promising.

23 March 1975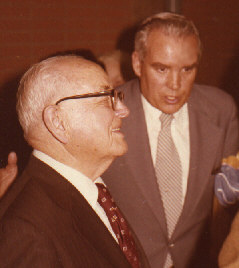 We had a very enjoyable morning. First of all, I called home (Collect, of course) to inform my parents that our stay would be lengthened by 2 days at least. Dad and Mom (And Rusty) were all still in bed when I called, and I think they all had a bit of a shock at 6:00 AM. Mom sounded worried, Dad confused and Rusty was just sleepy. But it was great to hear them once again. I can't wait to see them, and put my arms around them.

Then off to hunt references. First one just arrived while we were there, and really wanted nothing to do with us. Number 2 wasn't home. But then we struck it lucky. The Dorothy Phillips reference. We were writing a short message, because they weren't home, on the back of a pamphlet. As we finished, the entire family drove up, and they were very, very friendly. They had just come home from Church--the Church of Scotland--and were about to go out on a service errand. We talked with them, and soon became friends. We talked about their church, churches in general, and the Church of Jesus Christ of Latter-day Saints. The discussion (3rd) was great. The family was wonderful, and should we writing us in the near future. They gave us a ride home, and were most friendly as they wished us happy traveling and "God speed." I hope they take to heart our message, and remember how great they felt.

We then ate another big lunch, and took off for the bus depot to go out to St. Augustine, where another member is reported to live.

The busses were full, but we caught a taxi who took us to the street where this member was supposed to live. After asking around and making a phone call, we had some success. We got a hold of his mother, who invited us over--but in another part of town. So we walked a great deal, and finally arrived at the Imam home. That's when the surprises began. Hayden, the member, was in Canada for study, but we did get to visit his father, Wilfred, his mother, Cynthia, and Wanda, his younger sister. Apparently, there are two other brothers in the family--one on Trinidad who wasn't home yet, and another, Rocky, who is in the Dakota-Winnipeg Mission--serving his own mission! He has to be the only missionary from Trinidad. Boy, were we surprised! We decided to write to them from the US and let them know of the visit. Should be interesting.

Then we looked up another ten year old reference, left them a Book of Mormon. Another reference, one more, and then home. A but would not take us aboard ("... There is no room on this bus… "Though it was half empty), but we soon caught a taxi for 75 cents that took us to downtown, and then home to Woodbrook.

We had a light dinner, and then held a short Testimony/Sacrament Meeting. Elder Jorgensen directed. We sang one verse of "Oid El Toque del Clarin" and Elder Jorgensen offered the opening prayer. We then partook of the Sacrament. Elder Jorgensen blessed the bread; I blessed the water. After that, Elder Jorgensen bore his testimony, followed by my own. We then sang "We Thank Thee, O God, For a Prophet" (1st verse only) and knelt in closing prayer. It was a very beautiful experience, and shall not be forgotten for a long, long time.

24 March 1975

Happy Anniversary! Two years ago today I was in the Mission Home in Salt Lake City! Congratulations to me.

This morning was great. We left before 9:00 AM for Pan Am's downtown office to straighten up our ticket problem--and now it's no problem. We stay until Wednesday morning.

Headed up to Belmont for a reference that wasn't there, and walked way up in Cascade to find another that wasn't there. But on our way out, we started walking towards Queens Park Savannah, and ran into Hermano Julio Cesar Perez from Barquisimeto (Venezuela)--the one we met in Cachamay in Puerto Ordaz about 2 months ago. He was then en route to Trinidad. I almost died. We went up to his "Flat" and talked for awhile. He's doing fine but would like to have more information or missionaries on hand to help teach the people here. It was sure a surprise and a privilege to meet Hermano Perez there.

After lunch, we headed downtown to catch a taxi down to San Fernando, about an hour away. We got to San Fernando at about 4:00 or 4:30 PM, which didn't give us very much time to look up all of the references. We went to one who had since moved to another part of town, but who worked downtown. So we made a couple of other contacts--one very special one where they really felt great… and grateful. We then returned to the first house and got directions on how to get to Mr. Muradale's work. Walked down, found him there and made a good contact. Turns out he's a radio station owner, and has contact with most of the city. We, therefore, asked him to contact several others for us, and we looked for two more. One was a Hindu family who also gave us their "Bible" or the basis of their religion. One other and we were out of time.

Caught a taxi home and made it by 9:45 PM. So, with 15 minutes left, we went looking for some root beer, which we did not find. But we had already had 2 cans earlier in the day, so we weren't too let down.

25 March 1975

Slow morning. We got out and looked up 3 references, from one end of Port of Spain to the other. One old man was on another island, and family set up a visit for tonight and one didn't exist. The Fernandes Family moved a few months ago and didn't leave a forwarding address. We tried to find some more root beer, but were again unsuccessful in our attempt. Bought some postcards to send to the USA and Venezuela. Typical cards that show what Trinidad is like. It's hot today.

We left in the afternoon and went straight to the city of St. Joseph. There we found the parents of a reference that was a few years old, and he had married and lived in some other part of the world. More on that later.

Then we went to Barataria, then to Morvant--finding either moved or otherwise not-there references. Then we headed back to give a C Discussion to the Majabir Family, and it went very well. They offered to help us financially, but we told them to bless the building fund in the future, when we build our chapel there.

We left there about 8:45 PM, heading for another quick visit--the one we heard about at the start of the afternoon, the one that was now married and lived across the world. When we got there, the lights were out, and it was an impoverished-looking house. We weren't too enthusiastic about it. But we knocked downstairs--no answer. So we walked up these side stairs, knocked and "Who's there?" was the reply. About 2 minutes later, a man standing in a towel answered the door, and, after a brief explanation, he invited us inside. He excused his appearance and the condition of the house--it was quite messy, and asked us to explain more about who we were and what we were doing there at such a late hour (9:00 PM). His wife was still in bed, which took up most of the "House" and the four children were spread throughout the rest of the house. We talked and soon became friends. I felt very, very comfortable and happy, despite the surrounding circumstances. I hope to hear from that family before too long.

My final thoughts before leaving our "Tropical paradise" are these: I am eternally grateful for the privilege of going to Trinidad. I'll never forget the people or the work done here in these last 5 days. The type of work we did was quick, but very satisfying. I pray that these people may take to heart our message and do something for their salvation.

The people are great. I love the (British) accent, the life and the law and order here, the attitude of the people in general. I hope that Trinidad may one day find herself among the stalwart stakes of Zion, led by a Trinidadian of true conviction. I am thankful for the testimony no only gained, but the testimony we have left with these very fine sons and daughters of God… my Trinidadian brothers and sisters.

26 March 1975

Piarco Airport, 9:40 AM. We're really leaving! We've checked our bags, stamped our tickets and have really done all those preparations… we're going home! Oh, that dreadful day has come. We are REALLY on our way home. Maybe the plane will be delayed--there's always hope.

Got out no problem. Just getting to JFK International Airport and those darned Customs… "
COPYRIGHT NOTICE: Books written by Jean Borde are Copyrighted under the laws of Trinidad & Tobago. No reproduction in digital or print form should be made of his works without referencing this site as the source. Commercial reproduction prohibited. Members of the Church are free to copy for non-profit use in lessons, talks, etc.
Search via our Community for:
Id68 M - Nebraska USA Mormon History Coded by: BGID® | ALL RIGHTS RESERVED Copyright © 2000-2017
Disclaimer | Privacy | Report Errors / Contact | Credits
LDS Topics
Current Mormon Deep Discussion from our Community:
Highlights
Updated every: 14 minutes