INTRODUCTION
Who Was the First?
Ezra Taft Benson shakes the hand of the Honourable Victor T. Bryan in Trinidad Here is some background information into the earliest records I could find about Trinidad & Tobago and its contact with the Church.
In 1843, Joseph Smith called Addison Pratt, Benjamin Franklin Grouard, and Noah Rogers to serve a mission in Tahiti, which was then called the 'Society Islands'. Later that year, they set sail from New York in May, 1843, on the Timoleon, bound for the South Pacific by way of the Caribbean, South America and Cape Horn.
The Timoleon stopped at many of the principal ports in the Caribbean and South America, including Maracaibo and Caracas, Venezuela. Addison Pratt, remarked in a letter to W.W. Phelps that they also sailed near Trinidad on on their way south to Cape Horn.

"We landed on two of those islands, St. Nicholas and St. Jagoes: we saw some others, the most interesting of which was Fogo, or Foigo la Tera; in English it would be the land of fire. It has been a volcano, and has the appearance of a great sugar loaf sat in the broad ocean with its top far above the clouds. We left those islands the 19th of November and stood to the south; light winds and calms with very warm weather attended us till after we crossed the Equator; then we took strong south east trades; they carried us towards Brazil, we were near the island of Trinidad."
While I was stationed in the England Missionary Training Center I was introduced to Elder James E. Faust, an apostle, and he remarked to me that during World War II his ship made a stop in Tobago. He could still picture the island in his mind.
(Above - Left) The original cover of the printed version.
Notice the Picture of Ezra Taft Benson meeting with the honorable Victor T. Bryant at Piarco, Trinidad, West Indies. At that time Elder Benson was an apostle and U.S. Secretary of Agriculture and Mr. Bryant was a Minister in Government. They were meeting on some matters of State. Of this meeting Pres. Benson stated,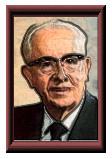 Graphic reproduction of Ezra Taft Benson "In Trinidad, which is in the British orbit, we found a member of the Church serving as one of the secretaries of the consulate."
(General Conference, April 1955).