IN THE BEGINNING
I had a reasonable rest the previous day to give myself time to reach the bus terminal in Port-of Spain. 'Alas! ' I managed to catch the bus distended for San Fernando a few minutes before it departed. Looking at the green countryside on the my way, I could not help but reflect how blessed I am to be in this land. I imagined what prophets from the Book of Mormon period may have passed through here. Did Nephi or the sons of Mosiah ever zealously care here? Did missionaries in their day try to convert the native Indians by sharing the Gospel with the Lamanites in this land? Were there any forts or ancient temples built and since then buried through time? Probably, archeologists may find out more about our own Caribs in future years. For now we can only wonder and wait, but we can rest assured that we do have modern pioneers of strength who can tell of their enduring efforts in the early days of the Church Of Jesus Christ of Latter-Day Saints in Trinidad and Tobago.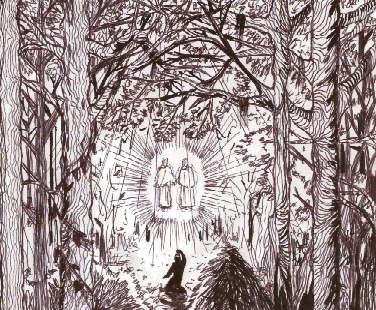 The First Vision drawn by Jean A. B. Borde

One such person I spoke with in San Fernando was Elizabeth Anne Rogers (Maiden name; Ali). Liz Rogers, as she is commonly known, has played a significant role in the Church being established here. A Trinidadian by birth (19 July), she had gone to England on vacation and stayed with some relatives there, who had migrated to England from Trinidad themselves. Liz met Emil Paul Dopson and they were later married (For time only) on the 4th February, 1974 in England. Emil and his mother, Dora Dopson (Now Dora Evans) were members of the Church. Dora's missionary-like spirit urged her to arrange for Liz to be taught the discussions. Liz was then judiciously baptized on the 21st April, 1974. Liz described to me how it felt hearing the restored Gospel,
"As I read the Book Of Mormon, everything fell into place for me, all my questions were answered. During my childhood, I often wondered about where the Indians came from. The Book Of Mormon gives the answer upon my first reading, but as I read the book a second time with 'spiritual eyes' I felt the Holy Spirit testifying of its truthfulness. It was as though the prophets in the pages I read spoke to me and I could feel their presence all around. I had no doubt in my mind that the gospel contained all the truth I was looking for", said Liz.
The sweetness of the message our full-time missionaries bring into each home, is the opportunity for each family member to know the truth on their own through prayer, a sincere desire to get an answer and receiving that wisdom by the prompting of the Spirit. Galatians 5:22 - 23 speaks of these feelings as,
'Love, joy, peace, long suffering, gentleness, goodness, faith, meekness, and temperance'.
The momentous occasion of a person's choice to follow Christ can be expressed similarly to Liz's,
"It was the most spiritual experience of my life. I was 'walking on an air ' and I never wanted to dispel such a feeling".
As a new member, she attended Catfort Branch of about 200 members for 3 years while living in Forest Hill, England. Her first call was to serve as a Merrie Miss teacher. Many months after Liz's baptism, her family, which included her son Ben (2 years old), daughter Katishe (2 months old) and her husband, Emil, entered the London temple to receive blessings therein.
One of our greatest beliefs as Latter-Day Saints, is that a family need not be separated at death, but through sacred temple ordinances they can be reunited as a family after this life

"To be in the Lord's temple was as if I was in Heaven. It was the most sacred place that I'd ever been on earth! I always had a burning desire within me to go to the temple after I learned families can be together forever", said Liz.
Emil, Liz, and Ben came for a 3 week holiday to Trinidad. Lucy Payne was a close relative of Liz and visited her in San Fernando during her stay here. Liz having gained the elation of doing missionary work, decided to discreetly leave a Book Of Mormon and pamphlet on Joseph Smith's testimony for Lucy as a gift. Liz and her family then departed once again for England. Lucy read the material given her and quickly called her husband, and said to him,
"I feel this (Referring to Joseph Smith's testimony of the first vision) is something special and serious".
Liz's family, Dora and herself then came back to Trinidad in October, 1976. Liz explained to me that they wanted to share the true Gospel message with relatives and friends in Trinidad and also be closer to them. Emil was a High Priest at this time, but it was necessary to have missionaries here to start proselyting and sacrament meetings.
I feel what humane Liz now did became the real start of events for the Latter-Day Saints in Trinidad and Tobago. She wrote to President Spencer W. Kimball, then prophet of the Church and requested that full- time missionaries be sent to Trinidad. Peremptory Pres. Kimball then referred the matter to the Venezuela Caracas mission, under the direction of President Howard B. Marsh. Pres. Marsh then acted promptly, seeing the prophet's interest in Trinidad, and sent two Elders from his mission.
Upon arrival at Piarco airport, the missionaries were rigorously cross-examined as to their purpose here and reasons for their intended stay at the Dopson's home which was located at Amethyst Ave., Diego Martin. Immigration officers then went to Liz's home to remorselessly question them about the missionaries.
"The officers queried Emil about why he would want to stay in Trinidad after being in England for 18 years. Emil explained to them that we were offered jobs by my family and it would be an ideal opportunity to share the Gospel with our relatives here", said Liz.
Liz then told me that the officers negatively replied,
"Graciously think of returning to England if your intentions are to pursue the establishment of the Latter-Day Saints' Church in Trinidad".

Emil then went to the airport to try and help the optimistic missionaries, but they were deported back to Venezuela. The Dopsons remained dedicated and did not follow the officers' wishes and waited patiently. Elders K. Don Bigalow (Salt Lake City, Utah) and La Mae Olds (Hurricane, Utah) were sent from the Venezuela Caracas mission to Trinidad and successfully entered the country with little objection from immigration
These First missionaries made their way by taxi to the Dopson's home. Liz expressed that her feedings were of total excitement and gratitude to the Lord. She could hardly believe that after only one month Pres. Kimball had sent missionaries.
Sacrament meetings were now held for the first tine in Trinidad in November, 1976. The first hymn sung being hymn no. 276 (Now 252) 'Put Your Shoulder To The Wheel'. While visiting areas of the Church around the world, many Trinidadians sent their names and addresses here (Trinidad) to the headquarters in Utah. Elders Bigalow and Olds brought these referrals with them.
PUT YOUR SHOULDER TO THE WHEEL
The world has need of willing men Who wear the worker's seal.
Come, help the good work move along; Put your shoulder to the wheel.
The Church has need of helping hands, And hearts that know and feel.
The work to do is here for you; Put your shoulder to the wheel.
Then don't stand idly looking on; the fight with sin is real.
It will be long but must go on; Put your shoulder to the wheel.
Then work and watch and fight and pray with all your might and zeal.
Push every worthy work along; Put your shoulder to the wheel.
Chorus:
Put your shoulder to the wheel; push along, push along,
Do your duty with a heart full of song, full of song,
We all have work; let no one shirk.
Put your shoulder to the wheel.
Text and music: Will L. 'Thompson, 1847 - 1909
Doctrine & Covenants 58:26-28
Doctrine & Covenants 107:99