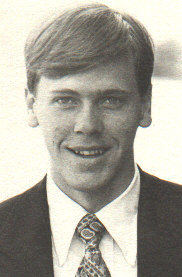 There was an Elder named Blaine R. Kemsley who came to Trinidad from Venezuela with his companion in 1975. These missionaries could be considered the first here, but as Elder Kemsley relates below… their entrance to the country was limited to searching for referrals and not much follow-up was done after.
Pres. Marsh directed this event, he being the Mission President in Caracas. Pres. Marsh later sent a letter to the Ishmael family about the Bordes some years later… this can be read within this E-book. Elder Kemsley was wise to keep an account of his stay and I thank him for allowing me to share his journals in this E-book:
From the Missionary Diary of Blaine R. Kemsley.
"The following are entries from March 20 - 26, 1975 during which Elders Jack Jorgensen and Blaine Kemsley were sent to Trinidad to check references provided to the Venezuela-Caracas Mission during a 10-year period. 20 March 1975. Took us over 12 hours to get here, but we're here.

Got to the airport at 9:00 AM, right on schedule. We checked in at Aeropostal Airlines, and everything went smoothly. We had no problems with overweight baggage, although we were overweight, and were checked through Emigration in nothing flat. That was about 9:30 AM. Then we began to wait.

We began talking to one man standing with us in line. Found a lot about him, and talked with him about the Church. He had known a lot of Mormons, his wife being an inactive member. He was very nice but had reservations as far as coming to church was concerned. We became very good friends during the course of the day. We were there in line until about 10:00 AM, when the plan was scheduled to leave. But at 10:15 AM, we were informed that the jet would be leaving at 10:30, and by 11:00, everyone knew that something was up. We had talked to a few other people, also all of whom had know about the Church previously.

Everyone showed up at the Aeropostal ticket counter asking an explanation of what was happening. Apparently, someone's signals were crossed, and it was understood that there were some demonstrations and strikes all over the island. This was the reason that the flight was canceled.

Immediately, the other airline (Viasa) was jammed with people asking for tickets on a later flight that evening. That proved unfruitful, as they could not guarantee that there would even BE a later flight. We called Caracas to come get us.

The Aeropostal flight for tomorrow morning was sold out and the Viasa flight was unsure. We decided to try the Viasa and were told that it would not be sure until later that afternoon. So we waited."

Here is the first photograph of the 5 Elders (Left to right, Kemsley, Jorgensen, Worden, Potts, Jespersen)
"When Elder John and Elder Jesperson showed up, at 4:30 PM, we were waiting for assurance from Viasa, which was given at about 5:00 PM. Had dinner, waited and read, and finally got checked through Emigration again. The flight left at about 9:45 PM--a DC-9 full of tired-of-waiting Trinidad passengers.

At Trinidad, at 11:00 PM, we were held up because of an entry problem. We had declared ourselves "Missionaries" and our purpose for visiting the country was to proselyte. To do that in Trinidad, you must have a license from the government. We finally talked the guy out of that, and he allowed us in on certain conditions. One was that we have no preaching in open areas such as streets, churches, etc.

Caught a $5.00 taxi to the Pelican Inn Hotel ($8.50 per day). Air conditioned, old fashioned room. It is now 1:00AM and I'm pooped. I'm very tired of traveling.

First impressions: A country of law and order. That is evidenced by the hassle we got in the airport at Customs, the manner in which people spoke and acted, and the policeman who asked our taxi driver to use his parking lights while dropping us off at the hotel. Nothing like this ever happened in Venezuela.

There is a "Total strike" going on. Transportation is very limited and expensive. There is no gasoline. The electric company is also on strike, I believe.

There are about 1,000,000 people on Trinidad. One hundred thousand live in Port of Spain. Forty percent are black, 30% are Hindu or European, and 20% of a great mixture--black, Indian, European, American and Spanish being predominant. The people must be well educated. The taxi driver was very smart and well informed. English is spoken, though not very pure.

I'm loving it already.